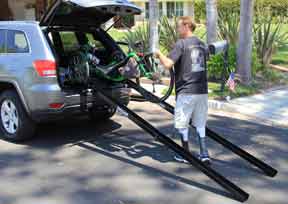 SYSTEM DISCRIPTION
Easy Load's telescoping ramps, or the Easy Load Ramp System-XL and XLW are alike except for the width. The XLW is an inch wider than the XL system.

These new systems are in three pieces. The sliding ramp when pushed all the way in, the length is four feet eight inches. When the locking latch is lifted from the storage stop the telescoping ramp slides out to the first stop at five feet, the same length as the standard Easy Load Ramp System. There are succeeding stops at six, seven and eight feet. The same two foot Ramp Extension on our standard Ramps is at the top of the telescoping ramps to span the distance from the Ramp Support "T" across the bumper to lay flat or slightly higher than the floor of the trike transporting vehicle.

The XLW system function is the same as the XL. The XLW is one inch wider to allow a bit more maneuvering room when loading a trike or hand cycle from a wheel chair. The wider ramps are also ideal for knobby or larger tires and the cambered wheels on hand cycles.
For information and to order your ELRS-XL please Contact EASY LOAD!